What's this?! Something new on my blog? Well you're totally correct!
Some of you who have followed me for a while will remember back in late 2018/early 2019 I started a series on my blog called "The A-Z of FM". Well I got to the letter "F" and decided to stop it for a while, my love for blogging had slipped and I was struggling to think of ideas without pestering other content creators to help me write something up.
If you want to read the other posts then here they are:
A quite wide variety of posts, I loved writing them and loved speaking to other content creators to help me with some of the posts.
Well now the series is back, it won't be as often as before, I will publish a post as and when I finish it.
So I'm up to "G" and as you can tell by the title of the post "G" stands for "Graphics"! I would take a guess that nearly everyone who plays FM for fun downloads and uses some kind of graphics, whether it be a fresh new skin or a facepack or fancy new kits to name a few, so in this post I want to go through some of my favourites that I have downloaded or have seen in and around the community.
Skins
There's nowhere else to start in my opinion than skins. Over the past few years skins have become a staple for the seasoned FMer to download, the base skins released ingame by SI have become divisive over the years with people not liking the colour schemes to there being way too much white! Dark skins especially have become one of the most popular skins.
I am one of those people, my eyes can't deal with the white and also I hate the large amounts of space on certain pages, therefore, when they available the first thing I do is download and test new skins. This year there have been two that I've absolutely loved.
Rensie Skin
This is the Skin I've used for the majority of FM20, clean, polished, great updates to areas like the player profile screen, the "pop-up" player overview, etc and also a nice clear-up of those pesky areas of space (in the schedule view especially!).
You can find Rensie's Skin on his website here: FM Rensie Skin
TCS Skin
Another brilliant skin that I've dabbled with on FM20, like the Rensie skin the profile and overview pages have been massively improved.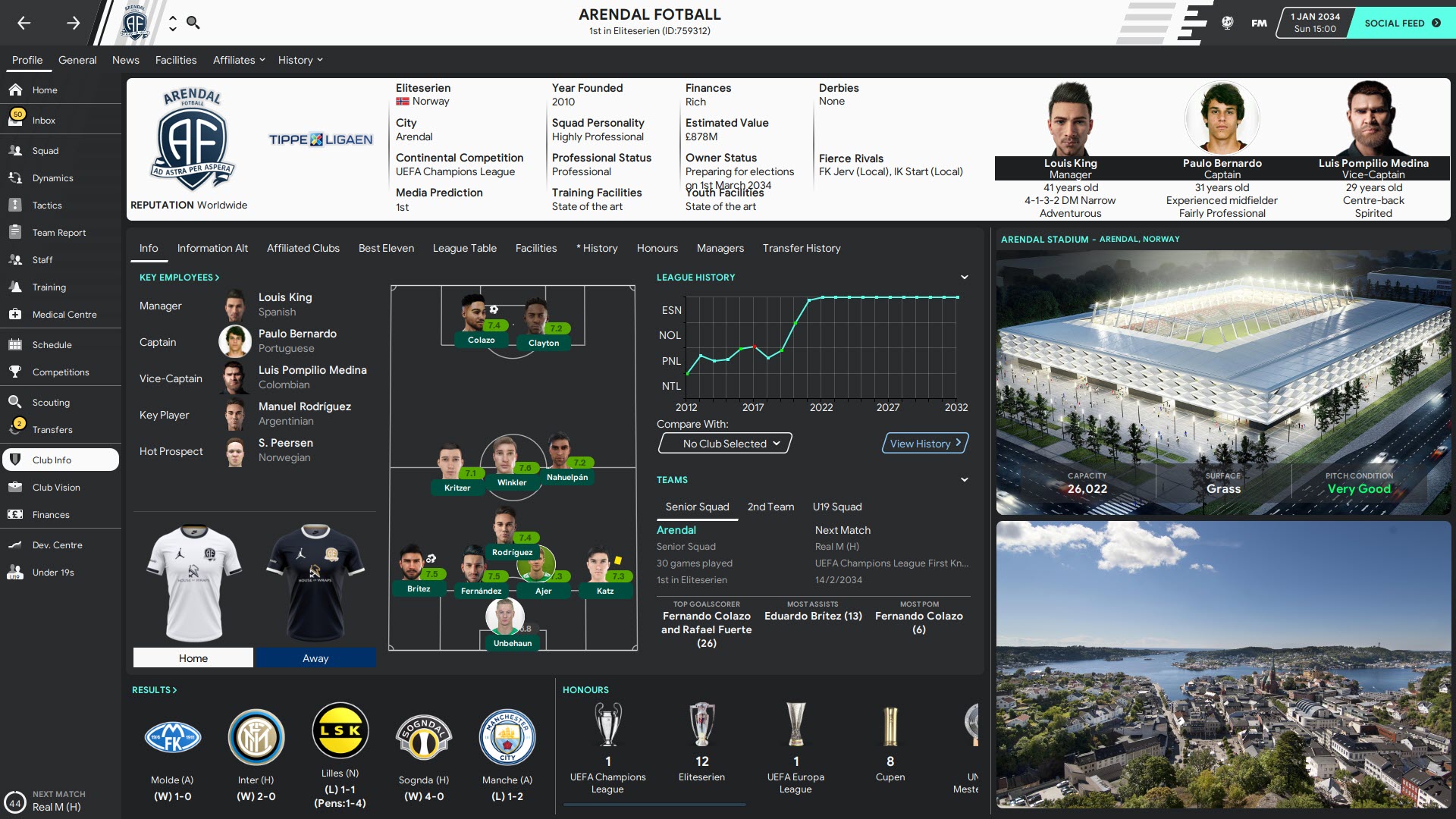 There are so many more which can be found on many FM fansites but if you want to find a handy list then look no further than the FMScout Skin section, there is a also a great skinning section on the SI Forums
Logos
Over FM20 logos have been one of the most talked about things due to issues with certain clubs not liking content creators using clubs logos without a licence.. Technically SI don't have the licence to have certain clubs and leagues logos (and club names in some instances) so quite a lot of FM players will go out immediately and download a logo pack which gives them the missing Premier League club logos and many many more.
I for one use downloaded logos but have used the same once for around 5 years now, downloading monthly updates when they come out.
TCM Megapack
This for me is the best one around which you can find here. I love the fact the logos are normal and not altered.
There are many other packs around which give you so many different options, from generic shield like logos to ones which don't breach licences.
If you want to see a list of the many logopacks then I'd suggest looking on the FMScout logo section, there is also a good list of Logopacks on the FM Base Graphics Section
Player Faces
This is another area where most FM players will go out and download a pack when a new FM comes out. Like the club logos SI don't have the licence to include numerous players from clubs so the only way we can have them in-game and see our favourite players like Jamie Vardy, Sergio Aguero or Andy Carroll.
Like the logos I've used the same pack for 5 years now and download updates most months. That pack is DF11 megapack which you can find on the link.
If you take a look on the FMScout facepack section or the Sortitoutsi section then you can see numerous other packs there.
Newgen Faces
This is something that's in my opinion (and probably many others) has been lacking on FM for a good few years, you can get players looking like they are either having a mental breakdown or are on some kind of drug! Over the past couple of years one lady has been producing amazing quality Newgen (yes I call them Newgen not Regen) faces for download which add a new amazing dimension to the game. The faces are just insane!
Laura/Chilled Moose is the creator in question, please make sure you go over and check her work out, I promise you it'll be worth it! Here are a few examples….
Go over and check Laura's patreon page for downloads
https://www.patreon.com/chilledmoose
Kits
This is another area where licencing issues stop SI implementing kits into the game for certain clubs and leagues. Personally I don't download kits, it's not the kind of thing I get excited about having in the game but there are numerous quality kit producers out there which you can download.
This is also an area where people love to create their own kits for their club or other clubs, templates can be downloaded to do it yourself and there are also handy guides on YouTube to show you how to install the kits into your game. One guy who creates fantastic kits is FMAcidphire on Twitter, but there are also so many more!
Finally if you're ever struggling to install kits into the game (or any other graphics for that matter) then TheFMU has a fantastic YouTube channel where he gives great tutorials on how to install these kind of things into the game.
These are just the types of graphics I use in my game, there are so many more that can be installed and used on your FM save. From Trophy packs to Stadium packs, to ad boards and custom panels for matchdays. The list is endless! I hope you have found this interesting and helpful. Finally, what graphics do you use religiously? Which ones would you recommend over and above the one's I've mentioned?
Thanks for reading! Next up will be the letter "H"!!
Steve/Lutterworth_Fox